Interview | Les Amies Anglaises London
I recently had the great pleasure of interviewing the latest pioneer in the fashion industry the CEO and designer of Les Amies Anglaises, Oriana Abbondanza. It was so enlightening for me to receive such a passionate, heart felt response. Delving into the roots of the LAAL brand and the journey Oriana has taken to bring her brand to where it is today, I am delighted to share this exclusive interview with you. 
Tell me a bit about the Les Amies Anglaises brand
Les Amies Anglaises London, also known as LAAL, is an artisanal 'Prêt à Couture' label for women, creating edgy handmade tops made from 100% silk to cater to a market that want to flaunt their avant-garde personality. 
Although LAAL possesses international inspiration from France and Italy, the concept of the LAAL brand idea was born and bred in London, where the brand's founder and designer is based.  
The 12 tops of the 'Silk Obsession' collection are as much pieces of art as they are fashion, as they nonchalantly breathe a restless couture spirit. 
The dramatism and black melancholy are expressed via luxury craftsmanship; with the artisan high embellishment and embroidery of the tops bring the result of hand-sewn finesse by our expert couturieres. 
Les Amies Anglaises is made for sensual and sophisticated feminine 'warriors'; strong and powerful creatures, who radiate enchanting allure and courage.
Why did you decide to become a fashion designer?
I have been working within fashion and luxury goods sector for the last 15 years, never in the proper "creative area" of the business, i.e designing a collection. However, since I moved to London the idea of having my own label and my own company became stronger and stronger in my mind.. the idea of designing my own tops came suddenly and at the beginning it was about designing a simple T-shirt. Then the idea became more elaborated and it ended up being the LAAL collection with each top being a master piece itself. I wanted to use a simple item like a top and make it a statement.
How did you get involved in the fashion industry?
My first approach with the fashion industry was working for a Fashion distribution company in Madrid, specialising in high end French and Italian labels. Then I worked in Milan and finally I moved to London where I started to attend courses at the University of Arts, at the London College of Arts and working within an international company heavily involved with the Fashion Industry.
What type of fabrics do you use to create your garments? 
Each top is made of 100% silk fabric, to be precise I use silk chiffon. I love the "lightness" of this kind of silk and the sheer effect that is very much in the LAAL DNA. 
I am obsessed also with leather, for the SILK OBSESSION collection (the current one) I sourced beautiful pieces of genuine leather from Spain.. And then, I do adore metal chains and I usually source them from London's little treasure shops.. London is great for the latest trends in trimmings.
Where do you gain the inspiration for your designs?
As often I mention, London is my main inspiration. It is such an inspirational city for creative people and everything can inspire me really – from a graffiti in a wall, Art exhibitions, people in  the street and from nature as well. For example, the ADASTRA top was inspired by the stars of the summer sky in Rome (my hometown). The silver studs of the tops recalled me of the sky full of stars in Rome.
How has your work evolved since your first began your own label?
We launched 3 weeks ago and I have to say that the collection has been very well "received". We are already discussing with different online marketplaces to showcase online the collection. It is very important to have our own website but at the same time being able to receive the support for bigger names can help.
At the moment we also are selecting our agents for Russia, China, EMEA… definitely a very bubbling time for LAAL ! 
What is most valuable lesson learned since you first began your own label? 
Patience is key when you build a brand, things can be incredibly slow, answers can arrive very late and sometimes they don't.. So I would say PATIENCE and PERSEVERANCE are the most important lesson/qualities I am learning so far.
If Les Amies Anglaises could have any celebrity spokesmodel, who would you choose?
For being  "so London", I would say Kate Moss and Cara Delevingne would be the perfect match for the LAAL look !
 I also like the intensity of Edie Campbell ..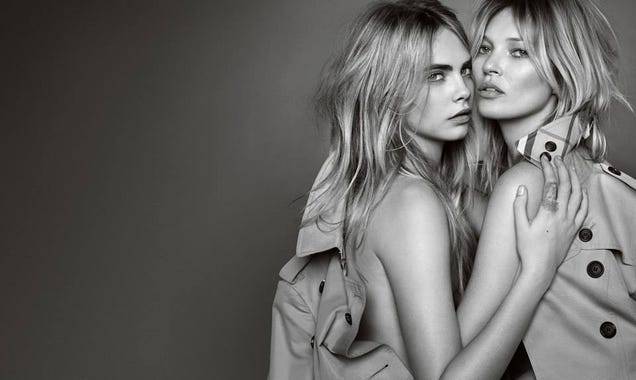 What's next for your brand?
This year is about promoting the brand and gaining visibility, therefore the next steps will be the participation at International Fashion Shows, such as Scoop, Tranoï in Paris and White in Milan.
What advice would you give to  inspiring young fashion designers?
I can't really give any advice because I am still … learning ! Definitely I could suggest to fight for your dreams and to believe in your ideas but at the same time I would stick also to "reality", never lose sight of it because sometimes we have to accept that things don't come as we wish! It is very though out there !!